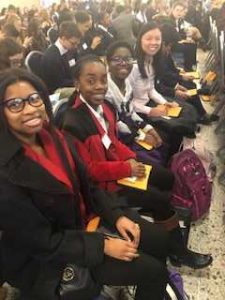 FCCLA members (from L to R) Kameron Smith, AnnKelly Ngdam, Jemimah Ndi and FCS student teacher, Jenna Mickle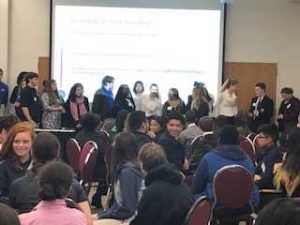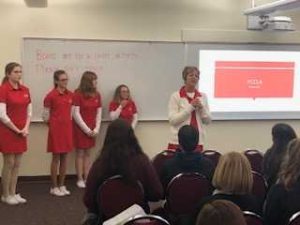 State Officers (from L to R) Veronica Nazarewcyz, Olivia Emmett, Georgia McKinney, Neve Heck and State FCCLA Adviser, Mrs. Hovermale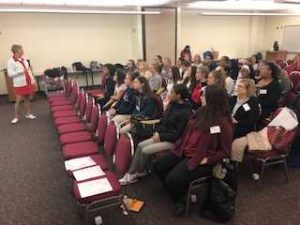 FCCLA members know how to play a mean game of Finger Jousting!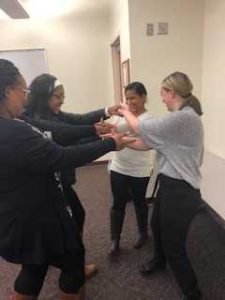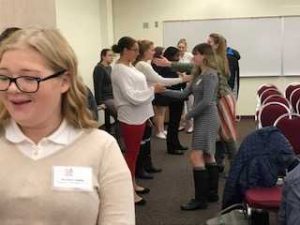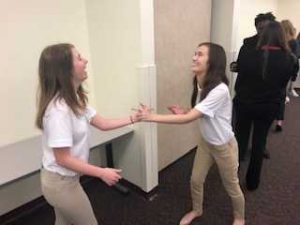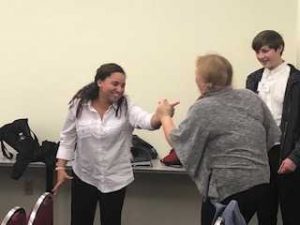 Cape Henlopen high school students pose with the state officer, Olivia Emmett, at the Fall Leadership Conference wearing their homemade outfits! (From L to R) Olivia Emmett and FCCLA Adviser Alayna Aiken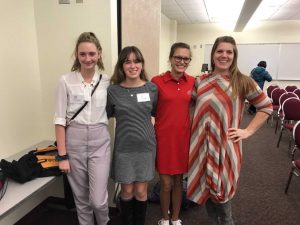 On 11/30/18, student leaders from Delaware's high schools attended an annual statewide Fall Leadership Conference at Deltech. Here they heard from Keynote speaker, Dan Freeman from the University of Delaware as well as participated in several workshops on leadership. Students walked away with several strategies that will enable them to lead their chapters at their respective high schools. Here are some photos from the day's events.
FCCLA State Officers and they led workshops on how to run a successful FCCLA chapter to their peers.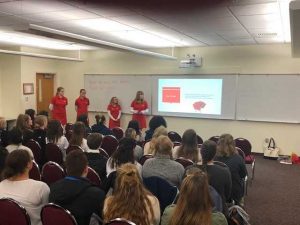 State Officers from left to right: Veronica Nazarewcyz, Olivia Emmett, Neve Heck, Georgia McKinney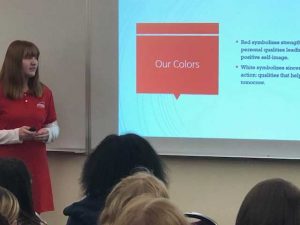 Georgia McKinney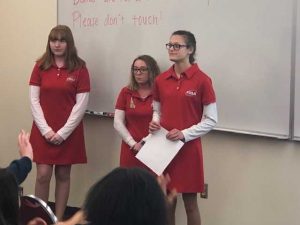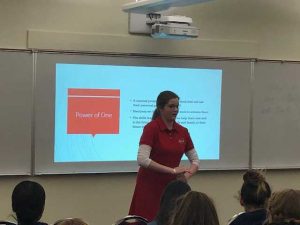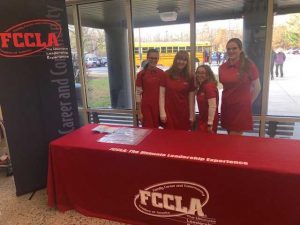 FCCLA State Officers from L to R Olivia Emmett, Georgia McKinney, Neve Heck, Veronica Nazarewcyz
Are you ready for….
2018 Fall Leadership Conference?
Held at Delaware Technical Community College "Del One Center" Terry Campus, Dover, DE
November 29th (high school) & Nov 30th (middle school)
Service Project: Toys for Tots
Please bring a toy for charity
Online registration is open from Sept 20, 2018-November 9, 2018. Each chapter may bring up to 8 students (from a comprehensive school) and 2 students per CTE program (from a technical school). Dress code is a collared or button down shirt, dress pants, and close-toed shoes.
FLC Registration Link:
https://www.registermychapter.com/flc/de/main.asp
Payment Link:
https://www.velocitypayment.com/client/delaware/education/index.htm
2019 National FCCLA Conference is in Anaheim, CA
Be sure to download the FCCLA 365 app to stay up to date on all things Conference!!

The National Conference is always exciting! By placing top gold in your event at Spring Conference you could be qualified as a high school student to explore the marvelous leadership at nationals! Even more so with it being held in a new location this year – Anaheim, California June 30 – July 4! We hope you can attend. Start planning for your trip now!